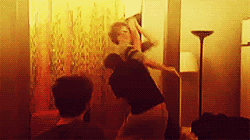 I know that there are those that don't believe that online or Internet friendships are real, that true friendships require a degree of personal interaction.
Personally, I am someone who has a hard time interacting with and connecting with people, sometimes it's easier for me to develop relationships with people online, where my usual nervousness and awkwardness is not expressed or conveyed as it would be in person.
It was never my intention to find friends online. And I basically just wanted to vent some things and see if anyone else shared the same feelings and experiences as myself.
I made a few temporary friends online. But one day, I made a friend and we really did like each other. We met in a forum and we talked everyday online.
Just because someone cant see you, you feel a little braver, a little more free and find yourself telling a total stranger your deepest darkest secrets. And because of that the person is not so much a stranger anymore.
Oh yeah, There is one thing to be said about us, we were really tight, you know, as friends.
We talk about stuff and things. He gives me advice, I give him a few tips and he gives me a few tips.
We really have a give-and-take relationship.
We would usually talk about our ex-girlfriends, sex, gym, work etc.
During our conversation, he asked me a question, which really surprised me:
BFF:
It's possible for you to fall in love with a guy?
Milch:
...................... Silence....
BFF:
Answer the question please :)
Milch:
I'm hoping that you will get a sex change in the future, so that you can be my girlfriend
BFF: [Offline]
I've had girlfriends, but nothing is as good as him, Am I falling for him? I have to admit masaya ako pagnagchachat kami,. And I was really upset when he signed out. It's not like him to signed out kasi usually nagpapaalam siya.
Damn! Does he like me? But I have to admit I like him too.
Is this romantic love or is it just a bromance between us? Oh my God!! Am I turning gay now? Or do I see him as an older brother too me. Kasi di naman kami close ng kuya ko.
Oh-oh-oh-oh-oooh!
Oh-oh-oooh-oh-oh!
Caught in a Bromance
Rah-rah-ah-ah-ah!
Roma-Roma-ma-ah!
Ga-ga-ooh-la-la!
If ever decided to go to the other side, Then my family will disown me at tatanggalan pa ako ng mana.
And besides I am still attracted to women.
After a few weeks we began chatting again and he never asked me the question again...
We have been good friends for almost 5 years now but we don't know each other in real life.
We haven't seen each others face.
He is someone who always lends and ear and a shoulder, even during those times when he needs them just as much. This person who is a true flesh and blood friend even though I have never met them in the flesh. But it doesn't matter. He is my best friend nonetheless, and I thank him for that friendship.
The reason why we haven't met, is because he works abroad. But he promised to see me if he ever visits the Philippines in the future.
Well at least I have someone in mind na magiging best man ko if ever I get married coz his single too